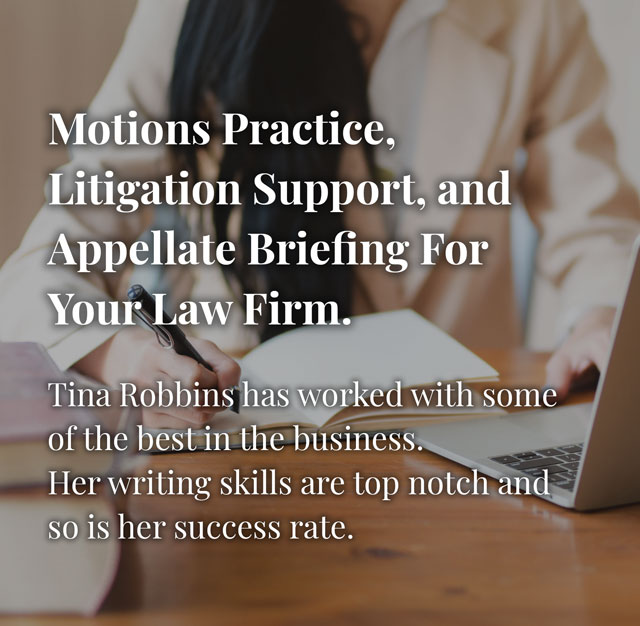 How We Can Help
Tina Robbins Law, PLLC was created to meet the demands of your practice's ever fluctuating workload. I am your on-demand senior associate for when you need high-quality, cost-effective legal research and drafting. 
Meet tight deadlines
Having an on-demand associate allows you to meet tight deadlines and unexpected client demands without the full-time expense of additional staff.
We handle the motions so you can focus on your case
Don't let opposing counsel overwhelm you with a barrage of motions before trial. Let me handle the motions so you can focus on your case.
Only pay for the time it takes to complete the project
Your practice may be busy enough to benefit from project-based outsourcing, but not enough to justify hiring and training an associate. When you outsource legal research and writing projects, you pay only for the time it takes to complete the project.
Your time is valuable
Research and writing tasks require substantial time and detailed attention. Don't spend hours doing your own research and writing when you could be preparing for your trial or meeting with clients.
Focus on the tasks that demand your personal attention
Some tasks, such as trials and client meetings, demand your personal attention; while others, such as legal research and writing, do not.
Legal experience you can count on
I am available to consult and assist with any issues outside your regular area of practice or outside your regular state of practice.
My level of involvement is designed to meet your needs. Regardless of whether it is at the beginning of a claim or when time gets short, you have the opportunity to receive cost-effective legal work with savings you can pass on to your client, allowing you to stay competitive in today's legal market. 
Litigation Support Practice Areas
We handle briefs, motions, and research for the following practice areas: all areas of personal injury, wrongful death, medical malpractice, legal malpractice, FELA, and business organizations law.

Strategic use of appellate counsel: Over the course of a case, creating a clean record is a critical component to success, particularly if the case goes to appeal. This preservation of error must begin the day a lawsuit is filed or answered and continue through post-judgment motions. Exploring the appellate possibilities early can help the trial team develop and present the best evidence to support the case on appeal. I can help preserve appellate arguments and ensure that errors are preserved at each stage of the litigation process.
For example, a party opposing summary judgment can greatly benefit from an appellate perspective to the legal analysis and framing the issues as well as preserving formal objections to summary judgment evidence and/or special exceptions if the motion is unclear or ambiguous.
These research and writing tasks require substantial time and attention to detail. So that you can focus on discovery, preparing witnesses for testimony, and finalizing your case for trial, we can handle time-consuming tasks such as:
 Substantive motions and Responses
 Motions for summary judgment and Responses
 Challenges to experts
 Federal removal/remands
Appellate briefs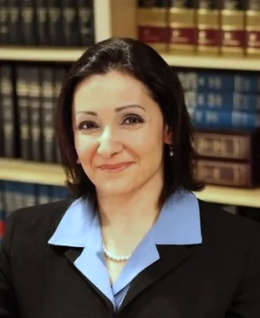 Tina Z. Robbins is a licensed Texas attorney with extensive experience in Pretrial, Trial, and Post-Trial motions practice.
A native of California, Tina received her B.A., with distinction, from California State University in 1996 and earned her master's degree in Clinical Psychology, with distinction, from Pepperdine University in 2000. Tina worked as a children's social worker investigating allegations of child abuse for eight years before moving to Texas to pursue her law degree. Tina earned her Doctor of Jurisprudence from the University of Houston Law Center in 2009 and went on to work for prominent Houston attorney, Michael T. Gallagher. Tina is admitted to practice in the U.S. District Court for the Southern and Western Districts of Texas and the Fifth Circuit Court of Appeals. 
Tina is a member of the State Bar of Texas, the Texas Trial Lawyers Association, the American Bar Association, and has been on the Board of Directors for the Houston Trial Lawyers Association since 2013.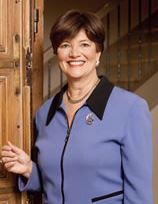 Tina is a heck of a writer, succinct and persuasive. She is a huge help when you need her.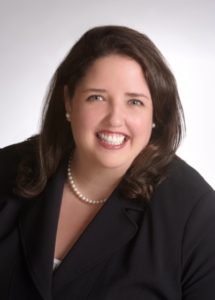 Tina's legal research and writing skills are unparalleled. She has an excellent knowledge of the law and believes in meticulous preparation of her work.
Tina and I have worked on several complex personal injury matters. Tina has saved me countless hours in research and briefing, and when she is finished, then the whole project is finished because I trust her. She is quick, thorough, and creative in her approach.